It may seem a little early to start mentioning Christmas, but already shops and retail stores have started to deck their halls with decorations and more and more shops have started engineering their sales towards Christmas time. It's only a matter of time before Wham, Wizard and Cliff Richard are playing over the airwaves as we conduct our Christmas shopping.
Unfortunately though, the Christmas period is also a lucrative time for intruders and thieves, who thrive on the holiday season, thinking that homes are likely to be less vigilant with their security and also that retail stores are likely to have a vast array of products on site. It is the time of year where it is most essential that the security systems on your property are checked over and any issues are dealt with right away, including any windows and doors that may need reinforcing.
The Master Locksmith Association recently issued very useful advice on how retailers can better secure their premises over the holiday period. In statement, the MLA development director Dr Steffan George said: "I always advise working from the outside in when reviewing the security of your premises – it's important to assess the perimeter and access points as well as interior of the building.
"These factors determine what physical security you will need for your retail outlet – ranging from locks, reinforced doors and window glass to grates, shutters and access control systems. It's especially important to get the security protecting your premises right as the dark nights draw in and as a deterrent against spontaneous attack. On that note, ensure you remove any bins, ladders, scrap metal and delivery crates that could be used as tools to gain access."
CCTV and Alarms
The statement also included the advice that retail properties should have any CCTV and alarm systems checked over by an expert at this time of year, to ensure that they are working to their full potential. This includes changing the codes of your security alarms and making sure your CCTV is pointing in the direction that will give you the best coverage and as much view of the surrounding area of your property as possible. An expert can also advise you on where best to have your monitor fitted – either on the premises or externally – so you can observe the footage that is being recorded in and around your shop.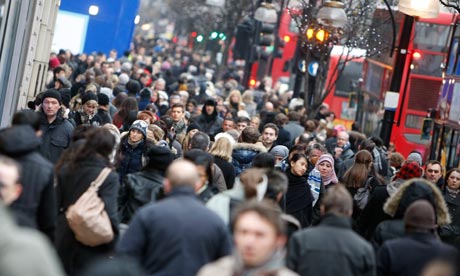 Image Source: Guardian.co.uk
If your shop is within a retail outlet, there is also the opportunity to approach other stores within the premises to see if they would be interested in dividing the cost for the extra security measures. Not only would this be good for strengthening the security of the entire premises and save each store owner money, but it can also help to strengthen the community bond by pulling local businesses together so that everybody can take advantage of the holiday season without worrying about costly damages and business loss through shoplifting and theft.
The Increase in Cash
One of the great benefits of running a shop and retail store over the holiday period is the increase in sales and profit from the floods of Christmas shoppers that come through the doors. This also means that business owners have to be doubly careful with their cash handling and money storage on site. If you have a safe on the premises, it's very important that it is kept out of sight of customers and especially out of sight when the store is closed at night. It is also a very good idea to not keep any cash on the premises overnight wherever possible.
Protect Your Goods
"If your stock room is on the ground floor, it makes sense to block the windows to stop visibility and perhaps add bars or grilles," Dr. George also said in his report.
"Conversely, a property in a shopping centre with its own security staff may not require shutters but would benefit from reinforced glass. It's all about tailoring the security to suit your premises.
"It's paramount that retailers are prepared for the sudden increase in footfall around the Christmas period and that the appropriate security and safety measures are in place. Engaging extra staff is well worth considering, both to manage the extra customers and to boost vigilance. You may also want to check your fire risk assessment and ensure that emergency exits meet requirements."
Any opportunity to lessen the chance of your being targeted over the holidays is worth taking, because intruders and thieves will definitely be on the lookout for any store or shop that has been lax in their security. It isn't hard to make it difficult for them, it is made hard because security is another thing to think about when you are working harder than at any point in the year. No excuses though: Keep safe and secure!